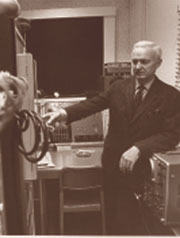 On this day in 1920 Helmer Myklebust was born in Lester (IA, US). Professor Myklebust was among a half-dozen educators and psychologists who provided the critical academic support for the creation of the special education services for students with Learning Disabilities. Although Professor Myklebust's work influenced Learning Disabilities, he also made substantial contributions to the assessment and treatment of individuals with hearing problems and the deaf.
Professor Myklebust taught at Northwestern University (Chicago, IL, US), Northern Illinois University (DeKalb, IL, US), and the University of Illinois Chicago (Chicago, IL, US; it was called "University of Illinois Chicago Circle" at that time). He published scores of articles and books, including the five-volume Progress in Learning Disabilities which collected papers by experts during the early days of LD.
In 2000 Naomi Zigmond, one of the people who was fortunate enough to study with Professory Myklebust, commented on his influence on her research career.
It was easy to be passionate about children with learning disabilities in those early days. We knew so little. We had so much to find out. Under Myklebust's tutelage, we approached each child as a detective approaches a new case. We looked for clues in what the child could and could not do, how he or she learned, how to get through to that brain where others had failed. He had us search relentlessly "for the right way in" so that a child could be helped to learn how to understand, or communicate, or read, or write, or calculate, or behave in a socially appropriate manner. If a child didn't learn, we were responsible. We hadn't figured her out well enough yet. We hadn't found the right way to teach her. We hadn't been good enough detectives.
Professor Myklebust died 26 February 2008. Link to the LD Blog post announcing Professor Myklebust's death.
---
Reference
Zigmond, N. (2000). Reflections on a research career: Research as detective work. Exceptional Children, 66, 295-304.